The Gold Bug - Chapter 4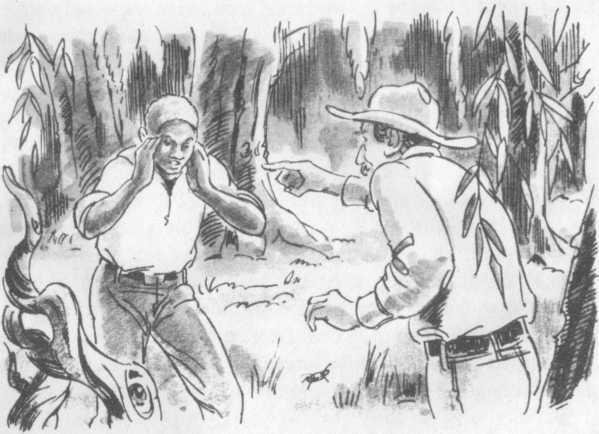 PARTI
To speak the truth, I little enjoyed this kind of work at any time, and at this particular moment, cared even less for it; for night was coming on, and I was already tired from having walked so far that day. But I saw no means of escape, and I also feared that, if I refused to help dig, I might excite my friend and cause him to become angry. If I could have depended upon Jupiter's help, I would have tried to force Legrand to return home, but I knew Jupiter's character too well to hope
that he would help me, under any circumstances, in a struggle against his master.
There was now very little doubt in my mind that Legrand had heard some of the many stories about money buried in this section and, for some reason, was under the impression that the particular bug which he had found could lead him to it. Per­haps Jupiter's idea that it was a "bug of real gold" had started his mind off on this train of thought. A quick imagination such as his might easily be led away by such ideas, especially when it seemed that here was a chance of his becoming rich again and getting back some of the things which had been lost by him and his family.
I called to mind that he had said "this bug is to make my fortune." Upon the whole, I was rather sadly confused by the whole matter; but I finally decided that the best thing to do was to dig with a good will and in this way prove to Legrand, by facts, that he was mistaken and that his ideas were those which came from a sick mind, in bad need of rest and care.
The lanterns having been lit, we all fell to work with an interest that was, under the circumstances, rather surprising. As the light fell upon us, I could not help thinking how strange a group we formed and how unusual our work would have ap­peared to anyone who, by chance, happened to pass by.
We dug very steadily for two hours. Little was said; the only noise, beyond that of our shovels, came from the dog who, seeming to take a great interest in what we were doing, cried and barked at us at times. His barking, however, became so loud finally that we were afraid it might attract some stran­ger to the scene, or rather, this was the fear of Legrand. For myself, I should have been happy to see anyone who might have brought an end to our work and could have helped me to get the madman home. But the noise was finally silenced by Jupiter, who, getting slowly up out of the hole, tied up the dog's mouth with his belt and then, very much pleased with himself, returned to his work.
When the two hours mentioned had finally ended, we had dug down into the ground to a distance of about five feet, and yet no treasure of any kind was to be seen. We then stopped digging for awhile, and I began to hope that we had come to
the end of our evening's business. Legrand, however, although apparently much confused, was not yet ready to give up. He wiped his forehead slowly as though in deep thought, then began again to dig.
We had dug and opened up the whole circle of four feet across, originally marked off by Legrand, and now we made this circle even wider. We also dug two feet deeper. Still nothing appeared. Legrand, for whom I really began to feel sorry, climbed up out of the hole. His spirits, as could easily be seen, were very low. Slowly he put on his coat, which he had thrown off at the beginning of the work. Meanwhile, I said nothing. Jupiter, at a sign from his master, began to pick up the shovels and other things we had been using. This done and the dog having been freed of the belt tied around his mouth, we turned in deep silence toward home.
We had taken perhaps a dozen steps in this direction when, swearing to himself, Legrand walked suddenly up to Jupiter and took hold of him by the throat. The surprised old man opened his eyes and mouth wide, let fall the shovels, and fell upon his knees.
"You devil!" said Legrand angrily. "You fool! Speak, I tell you! Answer me this minute, without lying! Which—which is your left eye?"
"Oh, by God, Master Will! Isn't this my left eye for sure?" cried the frightened Jupiter, placing his hand upon his right eye and holding it there as though afraid his master was going to strike him in that exact spot.
"I thought so! I knew it! Good!" cried Legrand, letting the old man go and making a series of wild and happy jumps into the air. Jupiter rose from his knees and, unable to believe what he saw, looked, first, from his master to myself and then from myself to his master.
"Come, we must go back," said Legrand. "We're not beaten yet." And he again led the way back to the same tree.
"Jupiter," he said, when we had reached the foot of this tree, "was the skull nailed to the branch with the face out, or with the face looking down toward the branch?"
"The face was out, Master, so that the birds could get at the eyes good, without any trouble."
"Well, then, was it this eye or that eye through which you dropped the bug?" Here Legrand touched each of Jupiter's eyes.
"It was this eye, Master—the left eye—just as you told me," said Jupiter, pointing very clearly to his right eye.
"That will do—we must try again," said Legrand.
Here my friend, in whose mad ideas I now saw, or thought I saw, some signs of method, removed the stick that marked the spot where the bug fell to a second spot about three inches to the west of the first position. Taking now the measuring cord from the nearest point of the tree trunk to the stick, as before, and continuing along this straight line to a distance of fifty feet, he reached a new spot which was at least ten feet distant from the point at which we had been digging.
Comprehension, Discussion, and Vocabulary Review
A. 1. Why didn't the author like the work they were doing?
2. Why was he afraid of refusing to help dig?
3. Why couldn't he depend on Jupiter's help?
4. What was the author sure that Legrand had heard?
5. Why did the author finally decide that digging was the best thing to do?
6. How long did they dig?
7. What was Legrand afraid that the dog's barking might do?
8. How was the dog finally silenced?
9. How deep did they dig in two hours? What did they find?
10. How much further did they dig?
11. What mistake had Jupiter made?
12. What did Legrand then decide that they must do?
13. Which way did the skull on the tree face?
14. What did Legrand do after Jupiter had given him this information?
B. Use the following words and expressions in sentences of your
own:
bury call to mind mark off
belt upon the whole
treasure by chance
depend upon tie up
start off mark off
PART II
Around this new position a circle, somewhat larger than in the first case, was drawn, and we again set to work with the shovels. I was very tired, but, hardly understanding what had caused the change in my thoughts, I no longer found the work so difficult or unpleasant, I had become, for the moment, very much interested, even excited. Perhaps there was something in the strange but decided manner of Legrand which impressed me. I therefore dug with new strength and interest, and now and then caught myself looking for, as though really expecting to find, some buried treasure of one kind or another.
At a period when such thoughts were in control of my mind and when we had been at work perhaps an hour and a half, we were again interrupted by the loud crying and barking of the dog. His actions, in the first case, had been apparently the result of his wish to play or have some fun with us, but his barking now took on a much more serious character.
When Jupiter tried again to tie him up, he fought against it, and jumping down into the hole with us began to dig away with his front feet into the loose ground. In a few minutes he had uncovered a pile of human bones, which were, as it seemed, the bones of two complete bodies. There was also some dust of a strange color which might have been what remained of the clothes of these two persons. One or two more strokes with the shovel turned up part of a large Spanish knife, and, as we continued to dig deeper, three or four pieces of gold and silver money came to light.
At sight of these, Jupiter became greatly excited and happy, but the face of his master still remained serious.
Legrand asked us, however, to go on digging, yet the words were hardly out of his mouth when I tripped and almost fell, my foot having caught in a large ring of iron that lay half-buried in the ground.
We now worked with even greater interest, and never in my life did I pass ten minutes of more tense excitement. During this period we had fairly uncovered a long chest of wood. It was a box about three and a half feet long, three feet wide, and two feet deep. It was strongly made of very thick wood; long metal strips also ran along the top and covered all of its four
sides. For this reason the chest was still in good condition, though it had apparently lain buried in the ground for at least half a century. On each side of the chest, near the top, were three rings of iron—six in all—by means of which a strong hold might be taken by six persons.
Together, the three of us tried to raise the chest by use of these rings, but its weight was too great for us, and we soon saw that it would be quite impossible for us to remove it in this way. Fortunately, the top of the chest was fastened by only two small iron rods. These we were able to draw back without too much difficulty—and the box stood open before us. All three of us were now shaking with the wildest kind of excitement. A treasure of the greatest value lay shining before us. As the light of the lanterns fell within the hole, there was a reflection from the great piles of gold and jewels that was almost more than the eyes could take in or believe.
I shall not try to describe the feelings with which I looked on this scene. My surprise, of course, was very great. Legrand appeared to be worn out from excitement, and spoke few words. Jupiter seemed confused—unable to think or move. Soon he fell upon his knees in the hole, and burying his naked arms in the treasure, let them remain there as though enjoying the pleasure and feel of so much gold all piled up together at the one time and place. At last, as though speaking half sadly to himself, he said:
"And all this came from the gold bug! the pretty gold bug! the poor little gold bug, about which I talked so bad. Aren't you ashamed of yourself, old Jupiter? Answer me that!"
It became necessary, at last, that I should wake up both master and servant to the need for removing the treasure. It was growing late, and it seemed clear to me that we should get everything done before morning. It was difficult to say exactly where to begin. Much time was passed in talking over various plans, so confused were the ideas of all of us. We finally made the chest lighter by removing about two thirds of the things in it. Then we were able, still with some trouble, to raise it from the hole. The articles which we had taken from the chest were hidden among the bushes and the dog left to guard them, with
clear orders from Jupiter neither to move from the spot for any reason nor to open his mouth until our return.
We then hurried for home with the chest, reaching the house safely, at one o'clock in the morning. Worn out as we were, it was not possible to do more immediately. We rested until two, and had something to eat. We then started for the hills armed with several large boxes which, by good fortune, we found out­side the house. A little before four we arrived at the hole, divided what remained of the treasure among the three of us, and leaving the holes unfilled, again set out for home. Here at the house we again put down our treasure of gold and valuable stones, just as the first signs of day were appearing from over the tree tops in the east.
We were now dead tired—worn out completely. Yet the ex­citement which we all still felt would not let us rest too well. After a troubled sleep of some three or four hours, we all got up, as though by arrangement, in order to examine our treasure.
Comprehension, Discussion, and Vocabulary Review
A. 1. How had the author's feelings about the digging changed?
2. When were they interrupted in their work? By what?
3. What happened when Jupiter tried to tie up the dog again?
4. What did the dog uncover?
5. What did they find next?
6. What happened just after Legrand told them to go on digging?
7. What did they uncover?
8. Why couldn't they raise the chest?
9. What did they see when they got the chest open?
10. What were the feelings of Legrand and of Jupiter?
11. What did they do about getting the treasure back to Legrand's house?
12. How did they bring back the rest of the treasure?
13. Why did they sleep only three or four ' hours?
B. Use the following words and own: expressions in sentences of your
interrupt go on
metal look
ashamed on
guard worn
hurry out
set to work fell upon his
for the knees pile up
moment have ashamed of dead
fun with tired in order to