The Murders in the Rue Morgue - Chapter 1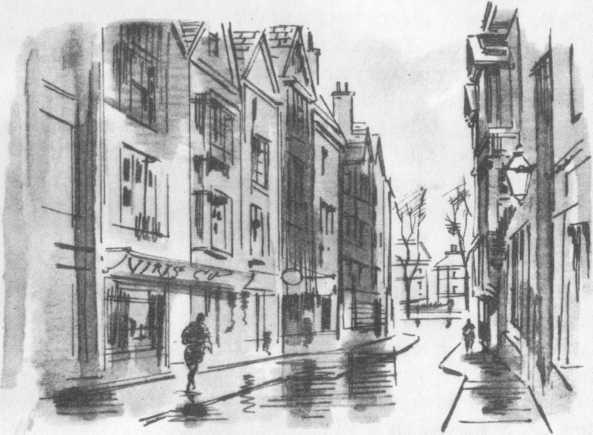 We saw each other again and again
PART I
Little is known about the mind of man, how it works or how it controls the many parts of his body. The power of reasoning, in particular, is little understood. Man thinks, connects one thought or idea with the other, and arrives at a final conclusion. How is all of this done: what are the step-by-step means by which such an end is reached? We understand very little about these matters; we know only that such powers exist, that man,
fortunately, is able to think and to reason. In this one way he is different from the lower animals.
We know, also, that man is generally happy in the use of these powers. When any one person is very intelligent or has unusual powers of reasoning, this person is considered par­ticularly fortunate and this person usually takes pleasure in the use of these powers and enjoys working at anything that brings them into play. Just as the strong man likes to work with his muscles, so the man of reason finds pleasure in the use of his mind. He enjoys working at whatever problem pre­sents a serious difficulty, and his pleasure comes at last when he finds the right answer to this problem.
The story which I am about to tell and which follows here will appear to the reader to bear out these facts.
While living in Paris during the spring and early part of the summer of 18—, I there came to know a Monsieur C.
Auguste Dupin. This young gentleman belonged to an important French family which at one time had been very rich. Through certain unfortunate circumstances, however, this family later lost all of its money as well as its position of importance.
In fact, Dupin himself was now so poor that he no longer fought against this condition but accepted it calmly as a natural thing. He did nothing to try to get back the family money nor did he show the least interest in ever becoming rich again. Instead, he drew away from the world and lived within the small circle of his particular interests. Fortunately, there had been left to him by his family a small amount of property, and from this property he received just enough money to cover his everyday needs such as food, clothes, etc. He had to watch his spending carefully, but since his wants were simple and he asked very little of life, he was able to make out very well. Books were, in fact, the only thing on which he spent extra money, but books are easily gotten in Paris and at little cost; so he was fortunate even in this. On the whole, he lived simply but happily—and with few problems of any kind to bother him or to draw his attention away from the things which really in­terested him.
The first meeting between us took place in a small, out of the way library in the Rue Montmartre. We both happened
to be looking for the same book—a very old one. Later we saw each other again and again. We became good friends. With that very open manner of most Frenchmen when speaking about something connected with themselves, he told me the whole long history of his family. I was deeply interested. I was also very much surprised at the great amount of reading he had done. He was, clearly, a very intelligent person. I often found myself carried away by the excitement of his ideas as he talked about the many things which interested him. A person of unusual imagination, he could talk in an interesting manner on almost any subject.
Since I was in Paris for special reasons, I soon saw that this man might be of very great help to me. I explained this fact to him very honestly. At last it was arranged that we should live together during the period in which I planned to be in Paris. Since my circumstances in the matter of money were somewhat better than his, it was agreed that I should pay for the rooms which we decided to take in the Faubourg St. Ger­main. I also bought the furniture which we needed, some very old pieces of a style no longer in use, but which went rather well with the time-eaten and ugly old house which we had chosen. No one had lived in this house for years; it was sup­posed to be haunted—but this fact did not interest or bother us in the least.
If our everyday manner of living at this place had been known to the world, we should have been considered madmen— though of course, not of a serious kind. We lived completely alone. We had no visitors. I had kept the fact that I was living here a complete secret from my friends; and it had been many years since Dupin had given up going out in public. We existed within ourselves alone.
It was part of the rather strange character of my friend that he preferred night to day—and into this manner of living I, too, quickly fell. I accepted this idea just as naturally as I accepted many other ideas of his. True, the darkness of night could not remain with us always, but we did the best we could in these circumstances to change day into night. Each morning, at the break of day, we closed all the great shutters of the old house, lighted several lamps, and by the light of these kept busy with
our dreams—reading, writing, or talking until warned by the clock that true darkness had finally arrived. Then we went out into the streets, arm in arm, continuing our conversations of the day or traveling far and wide until a late hour; in this way we readily found, among the many lights and shadows of the great city, that excitement of the mind that comes with quiet observation of the things about us.
At such times I was often struck by the great reasoning powers of my friend Dupin. That he was a very intelligent person I already knew. But I was not prepared for the very unusual powers of observation which he also showed so often on these visits around the city. It seemed to me that his sharp eye missed nothing at all, and each thing he saw had some meaning or importance for him. Also, he clearly took a great pleasure in the use of these powers and he often spoke of this fact openly to me.
He used to say that most men wore windows in their chests and foreheads and that the things that went on inside of them were for him no secret at all. Then he would go on, often in the most surprising way, to prove some of the things he had just said. He sometimes told me things about myself that I could hardly believe that he or anyone else knew. At such times Dupin's manner was distant and cold; his eyes had little expression in them. His voice, usually deep and rich, would rise, and become sharp and thin, while he spoke each word clearly and exactly. Seeing him at these times, I often thought that Dupin seemed to me to be two completely different per­sons: one a cold, exact, reasoning machine, the other the warm and friendly companion with whom I lived and spent most of my time.
Comprehension, Discussion, and Vocabulary Review
A
. 1.
Why is the power of reasoning little understood?
2. What is a pleasure for a man of reason?
3. Where does this story take place?
4. What had happened to Monsieur Dupin's family?
5. How did Dupin live?
6. Why was he fortunate in wanting to spend extra money only on books?
7.How did the author come to meet Dupin?
8. Who paid for the rooms they decided to take?
9. What kind of furniture did the author buy?
10. Why had no one lived in this house for a long time?
11. Why did they try to change night into day?
12.What did they do every morning?
13.. What did they do when it became dark?
14. In what did Dupin take a great pleasure?
15. How did Dupin's manner change when he became a 'reasoning machine'?
B. Use the following words and expressions in senteces of your own:
conclusion step-by-step
library take pleasure in
imagination draw away
somewhat from make out
observation carried away in
subject the least
PART II
Let it not be supposed, from what I have just said, that I am writing here some strange or unreal mystery story. What I have described in the Frenchman was simply the result of an unusually sharp and intelligent mind. But of the character of the things he would say at these periods in question, an example will best give the idea.
We were walking one night down a long, dirty street near the Palais-Royal. Being both busy with our own thoughts, we did not speak a word for fifteen minutes at least. All at once Dupin burst out with these words:
"He is a little fellow, that's true, and would do better in some­thing other than tragedy."
"There can be no doubt of that," I answered quickly, and not at first observing (so busy had I been with my own thoughts) the unusual manner in which Dupin had judged the direction of my thinking and even entered into my mind.
In a moment, however, I remembered myself, and my surprise was very great.
"Dupin," said I gravely, "this is beyond my understanding. I can also say that I am very much surprised and can hardly believe what I have heard. How was it possible that you could have known that I was thinking of . . . ?" Here I stopped, in order to find out, beyond a doubt, whether he really knew about whom I was thinking at the moment.
". . of Chantilly?" said he. "Why do you stop? You were saying to yourself that his small figure was not good for a part in tragedy."
This was exactly what had formed the subject of my thinking. Chantilly had been at one time a shoemaker in the Rue St. Denis. He fell in love with the theater, had some success in it, and recently had tried the part of Xerxes in the tragedy of the same name by Crebillon. But the part was not right for him, and everyone had laughed at him through the whole show.
"Tell me, in heaven's name," I said, "the means—if means there are—by which you have been able to enter into my thoughts in this matter." In fact, I was not only surprised at what had taken place but a little frightened as well.
"It was the fruit seller," answered my friend, "who brought you to the conclusion that the shoemaker Chantilly was not tall enough for the part."
"The fruit seller—you surprise me—I know no fruit seller."
"The man who ran up against you as we entered the street— it may have been fifteen minutes ago."
I now remembered that, in fact, a fruit man, carrying upon his head a large box of fruit, had nearly thrown me down, by accident, as we passed from the Rue C . . . into the street where we now stood; but what this man had to do with Chantilly I could not possibly understand.
Dupin was very direct in manner and not given to tricks of any kind. "I will explain," he said. "And so that you may understand everything clearly we must first go back over the course of your thoughts, from the moment in which I spoke to you until that of your meeting with the fruit seller in question. The steps run in this way—Chantilly, a newspaper writer, Orion, Epicurus, street, stones, the fruit seller."
There are few persons who, at some period in their lives, have not found pleasure in going back over the steps by which a particular conclusion has been reached in their minds. It is often very interesting to do this, and he who tries it for the first time is always very much surprised by the great distance and the little connection between the starting point and the final end. What, then, was my surprise when I heard the French­man speak what he had just spoken, particularly when I could not help knowing that he had spoken the truth. He continued:
"We had been talking of horses, if I remember correctly, just before leaving the Rue C . . . This was the last subject we spoke about. As we crossed into the street, a fruit seller with a large box of fruit upon his head went quickly past us, knocked against you, and threw you upon a pile of building stones which lay near a place where the street was being fixed. You stepped upon one of the loose stones, almost fell, hurt your leg, appeared angry, said something to yourself, turned to look at the pile, and then went on in silence. I did not pay any particular attention to what you did or what you said, but observation has become with me, of late, almost a matter of habit.
"You also kept looking down all the time, examining with a rather unpleasant expression on your face the holes in the street (so that I saw that your mind was still upon the building stones) until we reached the little cross-street called Lamartine, which has been fixed recently by means of a special kind of building stone introduced not long ago by the Italian builder Epicuro. I told you something about this man and his work a few nights ago when we came upon a street which had been prepared with the special style of stone which he uses. Here your face lighted up, and, seeing you say something to yourself, I could not doubt that you said the word Epicuro.
"Again, I knew that you could not say to yourself Epicuro without being brought to think at once of Epicurus, whose writings we have talked about so many times. When we last mentioned Epicurus I told you that many of the ideas of this brave Greek have recently been proved to be correct. In par­ticular, his writings about the heavens and the stars are now widely read. I felt at this point that you would surely raise up
your eyes toward the sky, and I certainly expected you to do so. You did look up, and I was now sure that I had followed your steps correctly. Your eye fell upon the only group of stars which happens to be clear tonight—the group called by the name of Orion. Orion, as you remember, was always pictured in Greek history as a hunter dressed in the skin of an animal and carrying in one hand a sword and in the other a long spear. The group of stars suggests this same picture, and for this reason carries Orion's name.
. t.
"Now, your thoughts having come to rest upon Orion in the sky, it was very natural that you would think next of the piece in yesterday's newspaper where the writer made light of Chantilly's acting and made fun, in particular, of the, fact that he carried in his hand a spear which was larger anq| tallet than he himself. The writer made a great deal of this point. I was sure that you had not forgotten this newspaper piece, and it was also probable that your mind would move from Orion in the sky to the newspaper piece which spoke of the over-long spear in Chantilly's hand. That you did connect these two things in your thoughts was clear to me from the character of the smile which passed over your face. You thought of the poor shoemaker in his foolish dress. So far you had been leaning over as you walked, but now I saw you draw yourself up, mak­ing yourself as tall as possible. I was then sure that you were thinking of the short figure of Chantilly. At this point I broke into your train of thought to mention that, in fact, he was a little fellow—that Chantilly—that he would do better in some­thing other than tragedy."
Comprehension, Discussion, and Vocabulary Review
A. 1. Why was the author surprised at what Dupin said to him?
2. About whom was the author thinking?
3. Who was Chantilly and what had happened to him?
4. What had the fruit seller done?
5. What were the steps that connected the fruit seller to Chantilly?
6. What had the author done after he stepped on one of the loose stones?
7.What happened when they reached the little cross-street called Lamartine?
8.About what had Epicure brought the author to think?
9.Why had the author looked up at the sky? What group of stars had he seen?
10.How was Orion always pictured?
11.About what had Orion made the author think?
12.Why was Dupin sure that the author was thinking about Chantilly?
B. Use the following words and expressions in sentences of your own:
describe find out
introduce
pay attention to