The Pathfınder - Chapter 1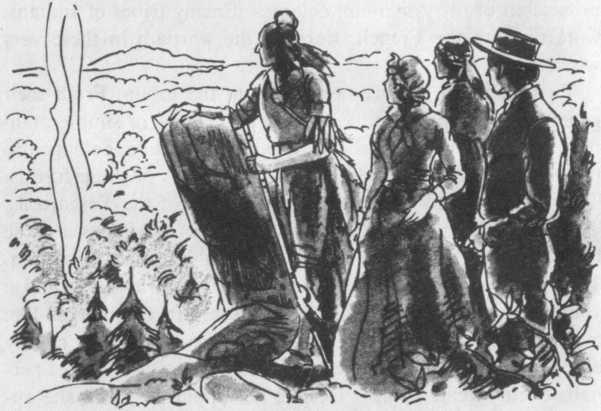 A Small Column of Smoke Was Seen Rising Into the Air
PART I
A group of four persons had left the canoe in which they had been traveling and walked toward a small rise of ground. From this rise they could look at the country around them. For miles and miles on every side, the fresh green forest stretched out like some great ocean. Yet not far distant, and in the same direction they were traveling, a small column of smoke was seen rising into the air.
Assured by the Indian guide who was one of the group, that this smoke came from a "paleface" fire, they decided to go
toward it, in order to find out who might be located there.
The group was on its way to the English fort at Oswego on Lake Ontario. They had been traveling for more than a week by means of the river trails that led west from Albany. In only one or two more days they would be able to reach the fort, but they knew that they were now in a more dangerous section of the country than that which they had just left.
The French and the English were at war at this time over possession of the American colonies. Enemy tribes of Indians, working with the French, were on the warpath in these very woods.
Two men and two women made up the group. From their general appearance they seemed to be persons of simple man­ners and habits. Two of them, a man and his wife, belonged to the people who were the original inhabitants of these forests. They were Indians of the well-known tribe of the Tuscaroras. The man, whose name was Arrowhead, was serving as a guide to the party; his wife, Dew-of-June, simply accompanied him. Their two white companions were a Mr. Charles Cap, and a young woman, Mabel Dunham, his niece. Mr. Cap looked like a man who had spent his days on the ocean and was clearly an ordinary seaman. His niece Miss Dunham was a girl of per­haps twenty years of age. Despite her apparent youth she ap­peared to be a person of character and intelligence. Her face was definitely pretty, though her expression at the moment was serious. The idea that other people, completely unknown, were somewhere near them in this wild and savage forest, had caused her cheeks to grow red with excitement.
After about a half-hour's walk, three of the party were near­ing the so-called paleface fire. Dew-of-June had returned to wait in the canoe on the river. From the moment they had first viewed the rising smoke, seaman Cap had brought out his pocket compass, which he considered very necessary to lead them through the thick forest. The Indian guide Arrowhead, however, simply noted the general direction with his eye and led them directly to the place without difficulty. His step be­came suddenly lighter as voices could be heard not far distant.
"See, Mr. Cap," Arrowhead said rather happily, pointing through the trees, "paleface fire. Wet wood! Very wet—much
smoke; much water—black smoke. Tuscarora too clever to make fire with wet wood."
"By heavens, the fellow is right," said Charles Cap. "They are white men and are eating their dinner aş quietly as if they were in the cabin of a big ship."
"Arrowhead is only half right," said Mabel, "for there are two Indians and only one white man."
"Palefaces—two," said Arrowhead, holding up two fingers, "redman—one." And he held up one finger.
"Well," said Cap, "it is hard to see which is right and which is wrong. One man is certainly white, and a good-looking fellow he is in every way; one is a redskin as clearly as paint and nature can make him. But the third fellow looks like something in between."
"Palefaces," said Arrowhead again, holding up two fingers, "redman," showing but one.
"He must be right, uncle, for his eye seems always to be true," said Mabel. "But it is necessary to know whether we meet friends or enemies. They may be French."
"Redman, Mohican," said Arrowhead. "Palefaces, Yankee." "That is good news," said Mabel, who had no wish to meet with those who might turn out to be deadly enemies. "Let us go up to them at once, dear uncle, and show ourselves as friends." "Let the girl go alone," said the Tuscarora.
"What?" said Cap with some surprise. "Send little Mabel ahead as a lookout, while two grown men like you and me wait to see how she will be received?"
"It is the best thing to do," interrupted Mabel, "and I am not afraid. No Christian man, seeing a woman walking toward him alone, would fire upon her. Let me go ahead, as Arrow­head suggests, and all will be well. We are, as yet, unseen, and though the strangers may be surprised, they will not be fright­ened into attacking us."
"I don't like it," said Cap. "In these woods, however, every­thing is done differently, I suppose, than on the sea. Here, take one of my pistols with you."
"No," answered the young girl. "I know nothing at all of arms, and I don't wish to learn about them now. I had better depend upon the fact that I am young and a woman."
After some final directions from Arrowhead, Mabel moved ahead towards the group before the fire. Although her heart beat quickly, her step was sure and her face showed no fear.
The men toward whom she walked were so busy eating their evening meal that at first they did not notice her approach. But when Mabel was within about a hundred feet of the group she stepped upon a dried stick. The slight noise caused the Mohican (for it was a Mohican, just as Arrowhead had said) and his companion to rise quickly to their feet. Both men looked toward their guns which leaned against a tree. Then, as their eyes fell on the young girl, they stood without moving. The Indian spoke a few words to his companion, sat down again, and went on eating as calmly as if nothing had happened. The white man, however, left the fire and came walking toward Mabel.
Mabel saw, as the stranger approached, that he was a white man, though his dress was so strange, and so similar in some ways to that of an Indian, that it was necessary to look at him closely to be certain of this. He was a man of about middle age. Though not at all good-looking, his face had such an honest and pleasant expression, that Mabel felt at once that she had nothing to be afraid of. Still, she stopped and waited.
"Fear nothing, young woman," said the hunter, for this is what his dress now showed him to be. "You have met Christian men here in this forest. And we know how to act toward those who wish to be friendly with us. I am a man well-known in these parts, and perhaps one of my names has reached your ears. By the French and the redskins on the other side of the big lakes I am called La Longue Carbine; by the Mohicans, a good and fair-minded tribe—what is left of them—Hawk-Eye; while the soldiers along this side of the water call me Pathfinder, since I have never been known to miss one end of a path when there was a Mingo, or a friend who needed me, at the other end."
Comprehension, Discussion, and Vocabulary Review
A. 1. How many people were there in the group that was traveling through the forest?
2.What could they see from the rise of ground where they stopped?
3.Where were they going? (If possible, get a map which shows the location of this story.)
4.How long had they been traveling? How much longer would it take them to reach the fort?
5.Why was it dangerous to travel at this time?
6.Who were the two Indian travelers?
7.Who were the two white travelers? What were they like?
8.What did Cap use as a guide through the forest? What did Arrowhead use as a guide?
9.How did Arrowhead know that the fire had been made by whites?
10.How many men were in the group around the fir&? How many were Indians according to Cap? How many 11.were Indians according to Arrowhead?
12.Why did Mabel go ahead alone?
13.What made the men aware of her presence?
14.Who was the man who came forward to meet her? Was he white or Indian?
B. Use the following words and expressions in sentences of your
own:
accompany find out
approach grow red
PART II
These words were spoken simply. It was clear from his man­ner that he knew that by whatever name he was known, he had no reason to be ashamed of any of them. Mabel was greatly excited. The moment she heard the name Pathfinder, she ran up to him, calling him by that name.
"Then you are the friend my father promised to send to meet us," Mabel said.
"If you are Sergeant Dunham's daughter, you are quite right."
"I am Mabel, and there, hidden by the trees, are my uncle, whose name is Cap, and a Tuscarora named Arrowhead. We did not hope to meet you until we had nearly reached the shores of the lake."
"I wish a fairer-minded Indian had been your guide," said Pathfinder. "I am no lover of the Tuscaroras, who have traveled too far from the graves of their fathers to do honor to the Great Spirit, and Arrowhead is one of their chiefs. Is Dew-of-June with him?"
"His wife is his companion, and a sweet, simple girl she is." "Yes, and true-hearted, which is more than any who know Arrowhead will say of him. But there is no use talking of that right now. I suppose worse guides than Arrowhead could be found—he has too much Mingo blood in him to be a real friend of the Delawares."
"It is, then, perhaps fortunate we have met," said Mabel. "You are right. In any case, I promised the sergeant, your father, that I would see his child safe to the fort, though I had to die for it. We expected to meet, you before you reached the Falls, where we left our canoe, and so we thought it might be best to come up a few miles in order to help you if you needed us. It is fortunate that we did, because I doubt whether Arrow­head is the man to take you through the dangerous Falls." "Here come my uncle and the Tuscarora now," interrupted Mabel. As she said this, Cap and Arrowhead, who saw that the conversation was friendly, came close. After a few words of explanation from Pathfinder, they went toward the two men who had remained near the fire.
The Mohican continued to eat. The second white man rose politely and took off his hat. He was young, with a very pleasant, good-looking face. He wore clothes somewhat similar to those of Mabel's uncle, as if he too had some connection with the water. When Mabel looked at the young man she saw his admiration for her in the expression on his face, so that she had to turn away. In fact, each felt at once that same interest in the other which two young people of similar age might natur­ally show under such circumstances.
"Here," said Pathfinder to Mabel, "are the two friends your good father has sent to meet you. This is a great Delaware, one
who has been a famous chief in his day. He has a long Indian name, Chingachgook, which in English means, more or less, the Big Serpent. You are not to suppose, however, that because of th>s name he is not to be trusted. He is intelligent and can be trusted in a way that well becomes an Indian. Arrowhead knows what I mean."
While Pathfinder spoke, the two Indians looked at each other steadily, and the Tuscarora approached and spoke to the other in a friendly manner.
"I like to see this," continued Pathfinder. "The meeting of two redskins in the woods, Master Cap, is like the greeting of two friendly ships on the sea. But speaking of water reminds me of my young friend here, Jasper Western, who knows some­thing of these matters, since he has passed most of his days on Lake Ontario."
"I am glad to know you, friend," said Cap, giving the young fresh-water sailor his hand, "though you must have something still to learn. This is my niece Mabel. I suppose there is more or less land all around your lakes here."
"Uncle, is there not more or less land all around the ocean?" interrupted Mabel, fearing that the old seaman would go on speaking about this, his favorite subject.
"No, child, there is more or less ocean all around the land. That's what I always tell people on shore. They are living almost in the middle of the sea without knowing it. Yet some persons have strange ideas. Often a fellow who never saw salt water imagines that he knows more than one who has sailed around Cape Horn."
Young Western first bowed politely to Mabel. Then he turned toward the old seaman: "What you say, Sir, is probably correct. But we are very proud in these parts of our great lakes, and the fact that, while sailing on them, we are seldom far from land, is to our minds a great advantage."
"In seagoing language, my boy, we call any such body of water landlocked," returned Charles Cap laughing loudly, and not hesitating to show that he did not have a high opinion of fresh-water sailors, or, for that matter, of anything or anyone not directly connected with life on the high seas. "But here comes Pathfinder, as they call him, with some smoking dishes,
inviting us to eat with him. I must admit that at sea one gets no such fresh meat. Master Western, will you take care of Mabel for a few minutes while I go and sit with Pathfinder and our Indian friends? I'm sure you'll find her good company."
Charles Cap said much more than he supposed. Jasper Western was only too glad to take care of Mabel, and paid her every possible attention. Mabel long remembered his kind and pleasant manner. He arranged a comfortable place for her to sit and brought her food to eat and water to drink. He soon won a place in her affection by his gentle, pleasant way of showing his interest in everything that concerned her. Mabel liked his simple, honest way of speaking and found him attractive in appearance. She listened carefully as he told her about her father, whom she had not seen since she was a child. He de­scribed the yet distant place to which she was traveling, and the manner of life that she might expect to find at the fort.
The rest of the group, meanwhile, had taken their places around the fire and were now eating with apparent pleasure. The Indians remained silent, but Cap and Pathfinder talked with interest about matters that concerned them both. Cap was not long in expressing himself about the advantages of the sea­man's life over all others; but he also listened carefully as Path­finder told him of Indian ways, of life in the forest, and of the dangers of travel where certain of the tribes were helping the French to fight against the English and the people of the colonies.
The afternoon wore on. There remained only a few hours of daylight. Pathfinder soon made ready to leave, and the others followed his lead. As they were about to start, Pathfinder got together a number of branches and threw them upon the dying fire, taking care to see that some of the wood was wet, in order to raise as dark and as heavy a smoke as possible.
"When you hide your trail, Jasper," he said, "a smoke such as this may prove to be of great help. If there are a dozen Of our enemies, the Mingos, within ten miles of us, some of them are up in trees looking out for smoke. Let them see this and much good it will do them."
"But they may strike our trail and follow us," said Jasper, whose interest in the matter had increased since his meeting
with Mabel. "We shall leave a broad path to the river."
"The broader the better. It will be even more than the clever Mingo can do, to tell which way the canoe has gone,—whether up stream or down stream. Water is the only thing in Nature which will completely wash away a trail. I am sure you see, Jasper, that if any Mingos have picked up our path below the Falls, they will strike off to- 'ard this smoke. They will naturally think that since we began by going up stream we will continue to go in that direction. If they know anything at all, they know that a party left the fort. However, as clever as they are, they will not possibly imagine that we have come up here just for the pleasure of going back again—the same day too, and at the chance of losing our scalps."
"Certainly," answered Jasper. "They cannot know anything about the sergeant's daughter, since her coming was kept a secret from everyone."
"And they will learn nothing here," returned Pathfinder, carefully covering up the impression left by Mabel's small foot on the ground. "Unless this old salt-water fish, her uncle, has been attracting the attention of every Indian within ten miles. Isn't he a strange one? Now, I can travel with a sailor like your­self, and find nothing unusual in your character, although your work belongs to the lakes, and mine to the land. What do you say? Perhaps we should teach the old fellow a lesson or two. Suppose we try him out—and run him over the Falls."
"And what would be done with his pretty niece meanwhile?" "Nothing will happen to her. She and the Indian can walk along the path that leads around the Falls. You and I can then take this Atlantic Ocean fellow for a trip by water that he won't soon forget. Anyhow, it's a good way for us all to get to know each other better."
Jasper laughed, showing that he agreed with the plan. Then the subject was dropped, for they were now nearing the place where the canoe in which Mabel, Cap and Arrowhead had traveled, waited for them.
Comprehension, Discussion, and Vocabulary Review
A. 1. Why was Pathfinder's name familiar to Mabel?
2. Why didn't Pathfinder think much of Arrowhead?
3.Why did he think it was fortunate that they had met now?
4.Who were Pathfinder's two companions?
5.Where had Jasper Western spent most of his life?
6.What did Cap like to talk about?
7.Why did Jasper quickly win a place in Mabel's affections?
8.What did Cap and Pathfinder talk about?
9.Why did Pathfinder throw water on the fire?
10.Why did he think that the Indians wouldn't be able to follow them?
11.What did Pathfinder and Jasper plan to do with Cap? Why?
B. Use the following words and expressions in sentences of your
admiration let know
win turn aside
trail take care of
honor make ready
sergeant get together
hear of pick up
draw near try out