The Pathfınder - Chapter 11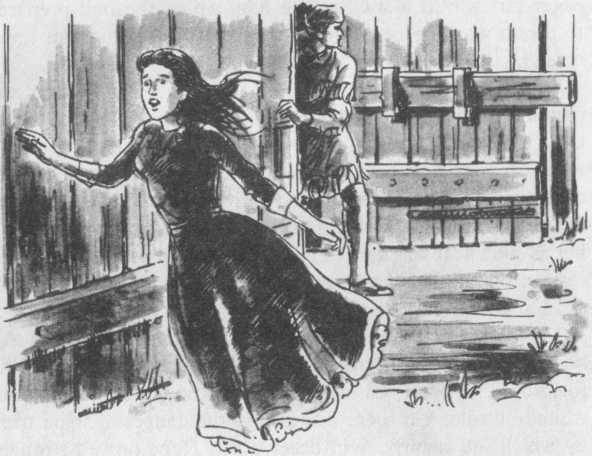 Mabel Ran Upstairs without Even Looking Back
PART I
Three or four hours flew by. Again the island was buried in quiet. The day was passing away. Mabel had still decided nothing. She went up on the roof several times, in the hope that, from this higher point, she might be able to give some warning to her father's party, should they appear. The roof itself was flat, and protected on all four sides by a low wall. Mabel kept herself well hidden behind this wall. She did not dare to show herself for a moment, in fear that a well aimed bullet from some waiting savage might bring immediate death.
The sun had already set and still Mabel had received no news from the boats. She had gone to the roof to take a last look, and was just ready to withdraw when an object that struck her as new caught her attention. The islands lay grouped so closely, that six or eight different channels or passes between them were in view. In one of the most covered of these passes lay what, on second look, assured her was a bark canoe. The eager girl waved a small white flag, which she had prepared to use in warning her father; and she repeated this sign seven or eight times.
Finally, she was answered from the canoe by a wave of the paddle. The man so uncovered himself as to let her see it was Chingachgook. Here at last was a friend, and one, Mabel felt, who was able and ready to help her. From that moment her courage rose. The Mohican had seen and recognized her. She felt that he would no doubt take the necessary steps to reach her as soon as it was dark. That he knew the enemy was in pos­session of the island was apparent by the great care he took to keep himself at a distance, and completely hidden.
Mabel now left the roof and waited for darkness to fall. An hour or two later, when she heard the expected knock at the fort door, her heart beat wildly. She had no doubt that a friend waited outside. Yet there was always the danger of some trick by which the enemy might deceive her. Hope proved stronger than fear. She went down at once and, with unsteady hands, began to unlock the heavy door. A strong push from without swung the door open just wide enough to let the form of a man pass through. Then the door closed silently again. Too fright­ened, in the darkness, even to speak, Mabel ran upstairs without even looking back. The man, however, waited a moment below, and locked the door carefully. Then he, too, went up the ladder which led to the second floor. To Mabel's great surprise, it was Pathfinder who now stood before her.
"Thank God!" cried Mabel. She felt safe at once with Path­finder at the fort. "Oh Pathfinder, what has become of my father?"
"No harm has come to the sergeant yet," answered the guide. "And he has gained a victory too—though it is not possible to say at the moment just how the thing will end. Everything
turned out as we expected with the expedition. We attacked and took possession of three French boats, drove away the French, and then sank their boats. All according to orders. And so the savages in Upper Canada will have fewer supplies this winter, and less ammunition to fight with."
"But where is my father and the rest of his party now?"
"As soon as the sergeant found himself successful, he sent Chingachgook and me off in canoes to tell you how matters had turned out. He is following with the two boats, which, being so much heavier, cannot arrive until morning. I parted from Chingachgook this morning. We had agreed that I should come up one channel, and he another, to see that the path was clear."
Mabel then explained how she had discovered the Mohican, and that she had expected he would come to the fort.
"Not he! Not he!" said Pathfinder. "A regular scout will never get behind walls or logs as long as he can keep in the open. I would not have come myself, but I promised the sergeant to find you and to look after you. Ah me! I approached this island with a heavy heart this morning, when I imagined that you might be among those who were killed."
"But by what lucky accident were you prevented from pad­dling up directly to the island, and from falling into the hands of the enemy?"
"By no accident at all. No, these tricks with dead bodies might deceive the soldiers of the regiment, and the king's offi­cers, but they are lost upon men who have passed their lives in the forest. I came down the channel near the pretended fisher­man. The devils had set up the poor fellow cleverly, but they were not clever enough to deceive an experienced eye. The fishing rod was held too high and the man was too quiet. Any­way, the Serpent and I never approach a position so carelessly. I have lain outside a fort a whole night simply because they had changed their manner of standing guard."
"Do you think my father and his men can yet be deceived?"
"Not if I can prevent it, though it is hard to say by which channel he may come."
"Pathfinder," said Mabel calmly. "You have mentioned that
you feel a certain love for me—and would like to make me your wife."
"I did speak on the subject, Mabel. The sergeant told me you were not opposed to the idea."
"Hear me, Pathfinder," continued Mabel in her most serious manner. "I honor you and respect you greatly. If you save my father, you have my promise to do as you ask—to become your wife."
"Thank you, Mabel, but this is more than I deserve. I fear that I am perhaps not good enough for you. And as to your promise, it is hardly necessary to make me serve the sergeant. He and I are old friends and owe each other a life."
"I understand. All that you say and do, Pathfinder, my reason approves. My heart will—no—shall follow in time."
"This makes me more happy than I expected to be this night. I can only add that we are in God's hands and He will protect us in His own way."
"Now that we understand each other, Pathfinder," added Mabel, "let us not lose one valuable minute. Can we not get into your canoe and go meet my father?"
"That is not the course which I advise. I don't know by which channel the sergeant will come—and there are plenty of them. Depend on it; the Serpent will be winding his way through them. No, though escape for the two of us alone would be easy, my advice is to remain here if we wish to help your father. The logs of this fort are still green, and it will not be easy to set fire to them. The whole Mingo tribe cannot get us out of this fort as long as we can keep the flames off. The sergeant is now camped on some island and will not come until morning. If we hold the fort, we can give him warning by firing rifles. Or if he should decide to attack the savages, the possession of this building will be of great importance to him."
Comprehension, Discussion, and Vocabulary Review
A. 1. Why did Mabel go up to the roof of the fort several times?
2. Why did she keep herself well hidden?
3. What attracted Mabel's attention? What signal did she make?
4.Why did Mabel's courage rise when she saw that it was Chingachgook in the canoe?
5.Why was it apparent that he knew the enemy was in pos­session of the island?
6.Why did Mabel unlock the door of the fort when she heard a knock?
7.Who entered the fort?
8.What had happened on the sergeant's expedition?
9.Why had the sergeant sent Pathfinder and Chingachgook on ahead?
10.Why hadn't Chingachgook entered the fort?
11.Why hadn't Pathfinder been deceived by the dead bodies?
12.What did Mabel promise Pathfinder if he saved her father?
13Why did Pathfinder think it would be better for them not to escape from the fort?
B. Use the following words and own:
withdraw owe
ladder approve
sink advise
pretend opposed to
respect look after
PART II
As he was talking, Pathfinder had gone to one of the open­ings in the side of the fort and stood looking out upon the island. He knew that his high hopes and plans for helping the sergeant and his party were more easily expressed than carried out. At this very moment there was a sound of oars and of boats passing through the channel.
"What is that?" cried Mabel.
It took a few moments for the eyes of the scout to accustom themselves to the darkness. By this time the boats had gone past and shot up at a distance of about several hundred feet beyond the fort, where there was a regular landing place. Path­finder whispered that those in the boats might be either friends or enemies, since he did not think that Mabel's father could
have arrived so soon. A number of men were now seen to leave the boats and there followed three loud English cheers—leaving no doubt as to who they were.
Without a moment's hesitation, Pathfinder climbed down the ladder and began to unlock the door. His manner showed how serious he considered this moment. Mabel followed. They were just about to leave the fort, when several rifles were heard. Then, the horrible war cries of the Indians rang out from the bushes and covers on every side. Pathfinder and Mabel rushed into the open air—but suddenly, all sounds stopped. After listen­ing carefully for a moment, Pathfinder thought he heard a few low groans near the boat, though he could not be certain. Mabel seemed carried away by her feelings and started to rush by him, taking the way to the boats.
"This will not do, Mabel," said the scout seriously, taking her strongly by the arm. "Certain death would follow, and no good will be served. We must go back to the fort."
"Father! My poor, dear, murdered father," cried the girl wildly. "Pathfinder, if you care for me at all, let me go to my dear father."
"This will not do, Mabel. It is strange that no one speaks and that no one returns the fire from the boats. And I have left Killdeer in the fort. But of what use would be a rifle, when no one is to be seen?"
At this moment, the quick eye of Pathfinder which, even while he held Mabel's arm, had not failed to take in every detail of the scene, now saw five or six dark forms moving near them in the bushes. The intention of the savages was apparently to prevent them from returning to the fort. Catching up Mabel, and putting her under his arm as if she were a child, Pathfinder ran quickly, and finally succeeded in entering the building. He could hear the steps of the enemy not far behind him. Setting Mabel down, he turned, and closed and fastened the door in almost the same moment.
Mabel now went up to the second floor, while Pathfinder remained on guard below. He first examined every comer of the place, to be sure that no one was in hiding there. Then he joined Mabel on the second floor. Before seating himself, he very carefully looked over the loading of Killdeer.
"It is just as I feared," said Mabel, whom the hurry and excitement of the past five minutes had left weak and shaking. "My father and all his party have been killed or captured."
"We don't know that yet—the morning will tell. I do not think the matter has been decided as yet, or we would hear the Mingo devils crying out their victory. Of one thing you can be certain: if the enemy has really got the better of our men, they will not be long in calling upon us to surrender."
"Surely I hear a groan."
"It's your imagination, Mabel. When the mind gets excited it often imagines it sees and hears things which do not exist." "No, I am not deceived. There is surely someone below, and in pain."
Pathfinder was forced to admit that the quick senses of Mabel had not deceived her. He warned, however, that the savages were accustomed to use every trick possible to gain their ends, and that nothing was more probable than that the groans were pretended, in order to draw them from the fort; or at least, to cause them to open the door.
"But we shall soon know whether a friend is there or not," added Pathfinder. "Hide the light, Mabel, and I will speak to the person from one of the openings."
Taking great care not to expose himself to some chance enemy bullet, Pathfinder placed his mouth to the side of an opening, and spoke in a low voice.
"Who is below?" he asked. "Is anyone hurt? If a friend, speak out and depend on our help."
"Pathfinder," answered a voice which both Mabel and the scout knew to be the sergeant's, "Pathfinder, in the name of God, tell me what has become of my daughter."
"Father, I am here," cried Mabel, running to another open­ing. "I am unhurt—safe—and oh, that I could think the same of you."
The sergeant was heard to express his thanks to God, though he groaned with pain.
"Pathfinder, my father must be brought within the fort," said Mabel, "though we risk everything to do it."
Pathfinder apparently did not consider any further explana­tion necessary. He went down at once to unlock the door. He worked carefully, but the door was hardly permitted to swing open, when the body of Sergeant Dunham, which had been lean­ing against it, fell partly within the fort. To draw in the sergeant's legs and to fasten the door again took Pathfinder only a mo­ment. Then he was free to give all his attention to the wounded man.
Mabel remained calm during this trying scene. She got the light, gave water to her father, and helped Pathfinder form a bed of straw for him. All this was done without speaking a word— nor did a tear appear in her eyes until she heard her father give his thanks for her love and care. All of this time Mabel had sim­ply guessed at her father's condition, but Pathfinder knew the physical danger of the wounded man. He saw that a rifle bullet had passed through the body of his friend, and he knew enough about wounds of this kind to fear that the sergeant had little, if any, chance of living.
Comprehension, Discussion, and Vocabulary Review
A. 1. What sounds did Pathfinder and Mabel hear in the channel?
2. Who was in the boats?
3. What happened just as they were about to leave the fort?
4. Why was Pathfinder's rifle of little use?
5. What did Pathfinder see?
6. What did Pathfinder do?
7. Why did Pathfinder think that the Indians had not won a victory yet?
8. Why did Pathfinder think that the groan Mabel heard might be a trick?
9. Who was outside the fort?
10. How did Pathfinder get the sergeant inside the fort?
11. How did Mabel behave while they were helping the sergeant?
12. Why did Pathfinder think the sergeant had little chance of living?