The Pathfınder - Chapter 9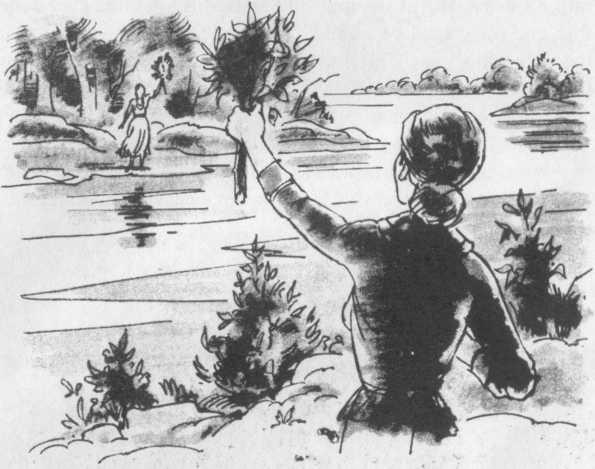 When Mabel woke the next morning, the sun had already risen. The island was completely deserted except for the few men left there by her father, and these were still asleep. Dress­ing rapidly, Mabel was soon breathing the fresh lake air, and taking in some of the beauty of the early morning scene. She walked as far as the end of the island, opposite to where the little fort was located. There, taking a position at the very edge of the water, she stood watching the movement of the waves as they broke lightly against the shore.
While busy in this way, Mabel was surprised by what seemed to her a human form moving among the bushes that lined the
shore of the island, which lay directly before her. The distance between the two islands was not very great and
Mabel's first thought was to draw back and hide herself. She well knew that, even though a woman, she could easily become the target of an enemy bullet. Yet, after a few minutes, when she was about to hurry away in order to acquaint her uncle with what she had seen, she noticed the branch of a tree being waved to her from among the bushes on the opposite bank. She wanted to run, but the movement of the branch was such that she believed it to be a friendly sign. Accordingly, she broke off a similar branch, fastened it to a stick, and holding it above the bushes, waved it in return.
After a few minutes of this exchange of signs, the bushes opposite were slowly pushed aside and a human face appeared in the opening. Mabel saw that it was the face of a redskin as well as that of a woman. A second and better look satisfied her that it was the face of Dew-of-June, the wife of Arrowhead. During the period in which she had traveled in the company of this young Indian girl, Mabel had been completely won over by her gentle and simple manner. Then, Dew-of-June had also paid her much attention, so that, when they parted, Mabel felt that she had lost a friend.
Mabel therefore called to Dew-of-June to approach, though she had no idea how this might be effected. But Dew-of-June was not slow in letting it be seen that it was within her power; disappearing for a moment, she soon showed herself again seated in a bark canoe. After a half dozen strokes of her paddle, she reached the shore where
Mabel waited, and then hid her canoe in the bushes of Station Island.
"I am glad to see you, June," said Mabel, with one of her sweetest smiles, and in her own winning voice "—very glad to see you. But what has brought you here, and how did you dis­cover this island?"
"June, friend," said the other in her slow and hesitating English—also smiling. "Friend come to see friend."
"I believe you, June, from the bottom of my heart I believe you. But what has this to do with your visit? There is some other reason, else you would never take the chance of coming here alone."
June put her arm affectionately around the shoulder of Mabel and drew her to her. "June come to tell Mabel that little fort on island good place to sleep," she said. "Go there and stay. Arrowhead send June to tell this."
"But Arrowhead? Where is he, and why is he interested in having me go to the fort to stay?"
"Arrowhead no want to see beautiful paleface girl hurt," answered June. Then turning her face away, and speaking so softly as hardly to be heard, she added: "Arrowhead love pale­face girl."
The effect of this statement upon Mabel may well be imag­ined. She now remembered that during the long trip to Oswego, while Arrowhead had served as their guide, he had shown her almost an unpleasant amount of attention. She had also caught him looking at her several times in a way that had made her uneasy, for she had heard stories of how Indian men were strongly attracted to white girls. Yet why, under such circum­stances, June should now come to her to carry Arrowhead's message, she could not understand. The answer to this ques­tion soon came from June herself.
"Arrowhead hope some day make pretty paleface girl his wife," explained June.
"But Arrowhead already has a wife. You are his wife, June —are you not?"
"Yes, I am wife of Arrowhead, but Indian chief like many wives. Wigwam very large. Big chief—more important when he have many wives to live in wigwam with him."
Mabel felt a sudden wave of fear pass through her body. Other thoughts, however, were also crowding into her mind at this moment, so she quickly changed the conversation.
"Tell me, June," said Mabel, "should I keep to the fort today, this morning, now? What should I tell my father my reason was for doing such a thing? The island is full of soldiers."
"No here—soldiers gone away. Father gone too." June held up four fingers. "Only so many Redcoats here on island."
"And Pathfinder? Perhaps you would like to talk with him. He can talk with you in the Iroquois language."
"Pathfinder gone too. Everybody gone. June see—Arrowhead see too. Got good eyes. See men with boat go away. See ship
with Jasper leave. Little fort only place for woman now. Logs thick. Little fort have no scalp."
"But we thought no one knew of this island and that we had no reason to fear our enemies while on it."
"Tuscarora everywhere. Oswego, here, Frontenac. Also one Yankee tell all—speak French."
Mabel again felt a chill at her heart, as her thoughts turned to the stories told about Jasper and his possible part in the tragedy that now faced all of them. "I understand your meaning now, June," she said. "You wish to tell me that someone has treacherously told your people where and how to find this island."
"Very late now," said June, apparently being careful not to give any more information. "Woman must go soon and stay in fort, and not tell anyone what June say."
"But one of the men here with me is my uncle, whom I love; and the others are my friends. I must tell them what has passed."
"Then June will be killed. Arrowhead find out and bury knife in body of June. Arrowhead know, see everything, and June be killed. June come to tell young paleface friend, not to tell men. Very important not tell anyone, or June die."
At this moment, the voice of Charles Cap was heard calling to Mabel from a distance. June drew back at once into the bushes. Mabel was greatly troubled at these last words of her wild friend. It seemed clear that June had come to warn her alone, and that the news which she brought was to go no further. When other sounds were heard now as the men on the island prepared to take their morning meal, June started to leave.
"June," said Mabel, throwing her arms around the gentle and innocent girl, "we are friends. From me you have nothing to fear. No one, not even my uncle, shall know of your visit. But go at once, while there is still time. My uncle may come for me any moment."
Mabel's last words were unnecessary. June had already started toward the canoe which she had left hidden in the bushes. Paddling rapidly, she was soon on her way to the opposite shore. Mabel continued to watch until the young Indian girl disappeared in the bushes on the opposite bank. Then she turned and made her way toward the center of the island, where the
rest of the party were already at breakfast.
A hundred thoughts kept crowding into Mabel's mind. The fact that June was so well acquainted with everything which had taken place on the island had made a deep impression upon her. She now saw clearly that the situation of those on the island, as well as of the party that had accompanied her father, was one of great danger.
Still, she had no wish to betray the trust that her young Indian friend had placed in her. She decided to do as June had sug­gested, and, as soon as she could do so without drawing any particular attention, moved all of her belongings to the little fort at the end of the island. She took Jennie, the young soldier's wife, with her. It was also her plan to warn the others against an attack—yet in such a way that no possible harm could come to June. A few hours later, therefore, when she saw Corporal McNab walking around the grounds in front of the fort, she ran up to him with the purpose of drawing him into conversation.
"My father has left you an important command, Corporal," she said. "If this island should fall into enemy hands, not only would we be captured, but the party that is now out would also be taken. I was thinking that you older soldiers, accus­tomed as you are to open battle, may take lightly the dangers that exist in a situation like ours."
Corporal McNab was a good soldier in the British sense. He was familiar with all sides of a soldier's life, and well used to war, but he was a poor person for the particular command he now held. He felt greatly superior to the people and the fighting men of the colonies, held strong opinions on every subject con­nected with military matters, and in general, supposed that nothing which did not come from either England or Scotland could be of any importance. He naturally considered American methods of Indian fighting foolish and unmilitary.
"And what would you have me do, Miss Dunham?" he said rather sharply. "I am sure it is not my courage you are doubting, for your father knows me well. And though it is Scotch cour­age which I have, and not Yankee, I dare say I am as brave as the next when the situation calls for it."
"There is no doubt of that, Corporal," said Mabel pleasantly. "My father has great admiration for you; otherwise he would
not have placed you in command of the island and all it holds, his own daughter included. I happen to know that he expects the f >rt to be well taken care of. It seems to me a good idea for all of is to move into it at once—in case of an attack."
"If the sergeant wishes to defend the honor of the 55th Regi­ment behind logs, then he should have remained in command himself; for, to speak the truth, it goes against our Scotch blood and opinions to be beaten out of the field even before it is attacked. We are men of the sword and like to stand foot to foot with the enemy. This American style of fighting that is getting into favor will ruin the honor of the King's army, and its spirit as well."
"But no true soldier fails to prepare himself in every way possible."
"That is correct. But on the other hand, Miss Dunham, you can take the word of an old soldier, who has seen his fifty-fifth year, that there is no surer way of helping your enemy than to seem to fear him. There is also no danger in this Indian style of fighting that the imagination of you Americans has not made greater than it really is. You seem to see a savage in every bush. We Scotch come from a naked country, and have little need or liking for covers. And so you see, Miss Dunham . .
The corporal gave a spring into the air, fell to the ground on his face, and then rolled over on his back. The whole thing passed so suddenly that Mabel had hardly heard the sound of the rifle that had sent a bullet through his body. Mabel did not cry out, for she did not have time even to think or to be afraid. Instead, she leaned over to help her companion. There was just enough life left in McNab to show that he understood what had happened. His face had the wild look of one who has been taken in death by surprise.
"You'll be getting into the fort as soon as possible," McNab whispered, as Mabel leaned over him to catch his dying words.
Comprehension, Discussion, and Vocabulary Review
A. 1. Where did Mabel go the next morning?
2. What did she see?
3. Why did she finally decide not to run away?
4. Who was on the other island?
5.How did Dew-of-June get to Station Island?
6.What was the message that Arrowhead sent? Why had he sent it?
7.What did Mabel remember?
8.How had the French and the Iroquois found out about the fort and the expedition?
9.Why didn't June want Mabel to tell anyone else?
10.Why did Mabel tell June to go quickly?
11.Where did Mabel move all her belongings? Who did she take with her?
12.Why was Corporal McNab a poor person for the command he held?
13.Why was McNab unwilling to move into the fort?
14.What happened to McNab?
15.What were his dying words?
B. Use the following words and expressions in sentences of your
own:
desert hurry away
target win over
statement acquainted
chill with roll over
information take by surprise